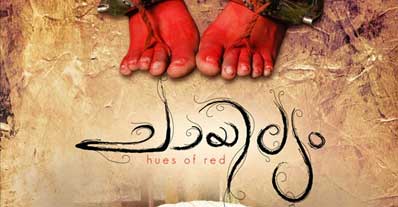 Its almost the same topic that we have seen in films like Thaniyavarthanam and even in Paithrukam where we can see a conflict between science and myths. Chayiliam explores the same subject through another perspective. A society that doesn't question the rituals that drives them is the target here.
The story is focusing on Gauri who left her family with the man she loved. Both of them got married against the wishes of their family and cast. Obviously it was difficult to hang in the society with no support and the difficulties ultimately ended up in the demise of the husband. Gauri gets support from her husband's father but her physical and mental condition gets misinterpreted and thus making things complicated for her. How she goes through that phase and how she overcomes it is what the movie talking about.
The movie throws an interesting sarcasm on the society whose view on one person is quite fragile and sort of opportunistic. Restricting and respecting the God at the same time can be seen in the film. The tactics used by certain religious mentors to sustain the fear/respect in people about religion are shown nicely. Unlike the references I made in the beginning, director Manoj Kana has gone for a conclusion which wins over the society. With some intense performances from the actors we are sure to feel what they wished to convey.
Anu Mol has done a great work as Gauri. She handled the slang nicely and the helplessness at various points where portrayed very impressively. Actor Gopakumar did the role of the forward yet restricted father convincingly. The child actor was really good. Actor Jijoy once again surprised me after Prabhuvinte Makkal.
The making is good enough to present the content without much distractions. The drama in the content was slightly high in the first half. Cinematography was poor. Edits were okay. BGM didn't fit at some occasions. That one song was nice to hear.
Overall this people's cinema is worth watching for its content that discusses our attitude towards certain custom. The rating is 3.5/5 from my side. Chayiliam may not be as heartening as Thaniyavarthanam was, but the movie deserves to be appreciated.
Final Thoughts
Signal
Green: Recommended Content
Orange: The In-Between Ones
Red: Not Recommended
Reaction